No matter what type of club you run, there are times when you need to collect payments from your club members, but it's not clear who should be paying. You could invoice everyone, but not everyone will need to pay or be interested in participating, meaning lots of chasing-up and later writing-off invoices. Not ideal.
Does your club face situations like these:
you can train or rehearse, but you have limited spaces available
A reality of coming out of the Covid pandemic is that people can get together, but sometimes in limited numbers. You want to offer these slots to your members on a first-come, first-served basis.

planning an ad-hoc training session or friendly game
A local club has offered a friendly game this weekend, but who's available and interested?

ordering new team kit or equipment
You've approved the designs for the new training top, now who wants one, and in what size?

organising a trip away
You're planning the team's first tour away for ages. You've got a quote from your travel agent. Plenty of people have stated their interest, but who's going to commit and pay a deposit?

planning an end-of-season dinner or other event
Your awards nights are always popular - maybe too popular! You want to offer an invite to everyone at the same time, to make things fair, as there are only 100 spots available.
How can we make these situations easier to manage? There must be an easier way. We've given a lot of thought to the back-and-forth that clubs face and we believe we've got the answer.
Introducing Pings
Pings are a call-and-response mechanism. The name is inspired by sonar, the technique used by submarines, where they send out a signal and listen for responses. That's exactly what happens here.
It's the opposite of traditional invoicing, so instead of creating and sending invoices to everyone, you create a Ping and your club members self-select what they're interested in and pay accordingly. Payments are automatically collected for you, along with a list of members who responded, saving you hours of admin time.
How does it work?
As with everything in Payzip, we've worked hard to keep things simple:
Create your Ping in Payzip
Distribute the link to your members
Have a cuppa while Payzip handles the rest
Let's look at each of these steps in more detail.
Create your Ping
This is where you define what your members are responding to, or buying. It's as simple as filling in this form.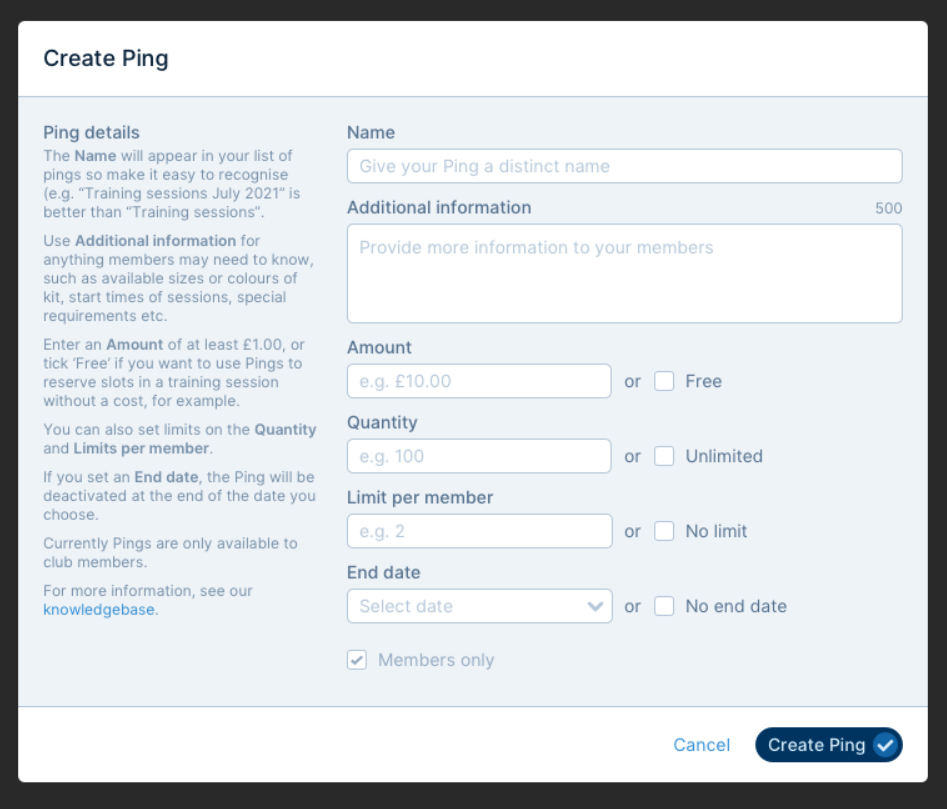 As well as describing your Ping, you can also choose:
the amount the item costs, or make it free
the total quantity available, or unlimited
the limit of items per member, or unlimited
the end date, or ongoing
In this first version, Pings are only for your club members. To protect your Ping, members enter their email address to see the detail and respond.
We'll be looking at how we can open Pings up to your public fans and supporters - we'd love your feedback on this.
The list of Ping responses is shown to the club administrator in a table, which you can export to CSV to use as attendee lists. This also makes it great for Covid Secure track and trace activities, where you need to record who attended a particular session.
Distribute the link to your members
Once created, every Ping becomes active and has a unique link. Payzip can help you send the link to your members via email (you can customise the email too).
You can also distribute the link via Facebook, your WhatsApp groups, a poster in the team clubhouse, whatever works for you.
Just like Payzip's invoices, Pings work on phones, tablets and laptop/desktop computers.
Have a cuppa while Payzip handles the rest
Now let Payzip do the hard work for you. We'll keep your Ping active for as long as you've asked, or until the quantity available reaches zero - whichever is sooner.
We'll capture the members who are interested, along with their payments - all Pings are paid by card, Apple Pay or Google Pay.
Cash flow is the lifeblood of the club, so we'll pay money collected to your bank account each week, as soon as it's cleared, so you can start using it sooner. Payzip combines any Ping payments along with invoice payments into one transaction into your club's account. You get a full breakdown of all payments in this transaction, of course.
We'll send you an email when your Ping ends. You'll then have the option to restart or duplicate it, as well as amend the total quantity now available, and end date.
That was easy!
You can have as many Pings active as you need, and they can work alongside your regular invoicing - whatever works best for your club, whichever way you want to collect your payments.
Pings are now live for all Payzip club administrators (see our release notes for the latest additions and improvements).
We can't wait to see how you'll use Pings. Let us know what you think of them, and if there's anything else we can add to cover any scenarios your club faces.