In this guide we'll take a look at some tools and apps (free and paid) that can help you get the most out of your club - and save some valuable admin time too.
Payment Apps
Free, with small service fee on card/mobile payments - see Pricing
Managing club member payments is a necessary but time-consuming task. While spreadsheets might work out fine for the first couple of months, soon things can become unwieldy, and a bit of a mess.
This is where Payzip comes in. It's easy-to-use invoicing software lets you request, organise, and track your member payments by Bacs, cash, or cheque for free. You only a small fee when a club member pays the club by card, Apple Pay or Google Pay - which saves you time recording and reconciling the payment. Automatic payment reminders help save you even more time, and every payment (regardless of method) gets an automatic email receipt.
As a club treasurer, you'll value that the card/mobile payments from that week are paid to the club in a single transaction (with a full payments breakdown), making reconciliation a breeze, and saving hours of manual lookup.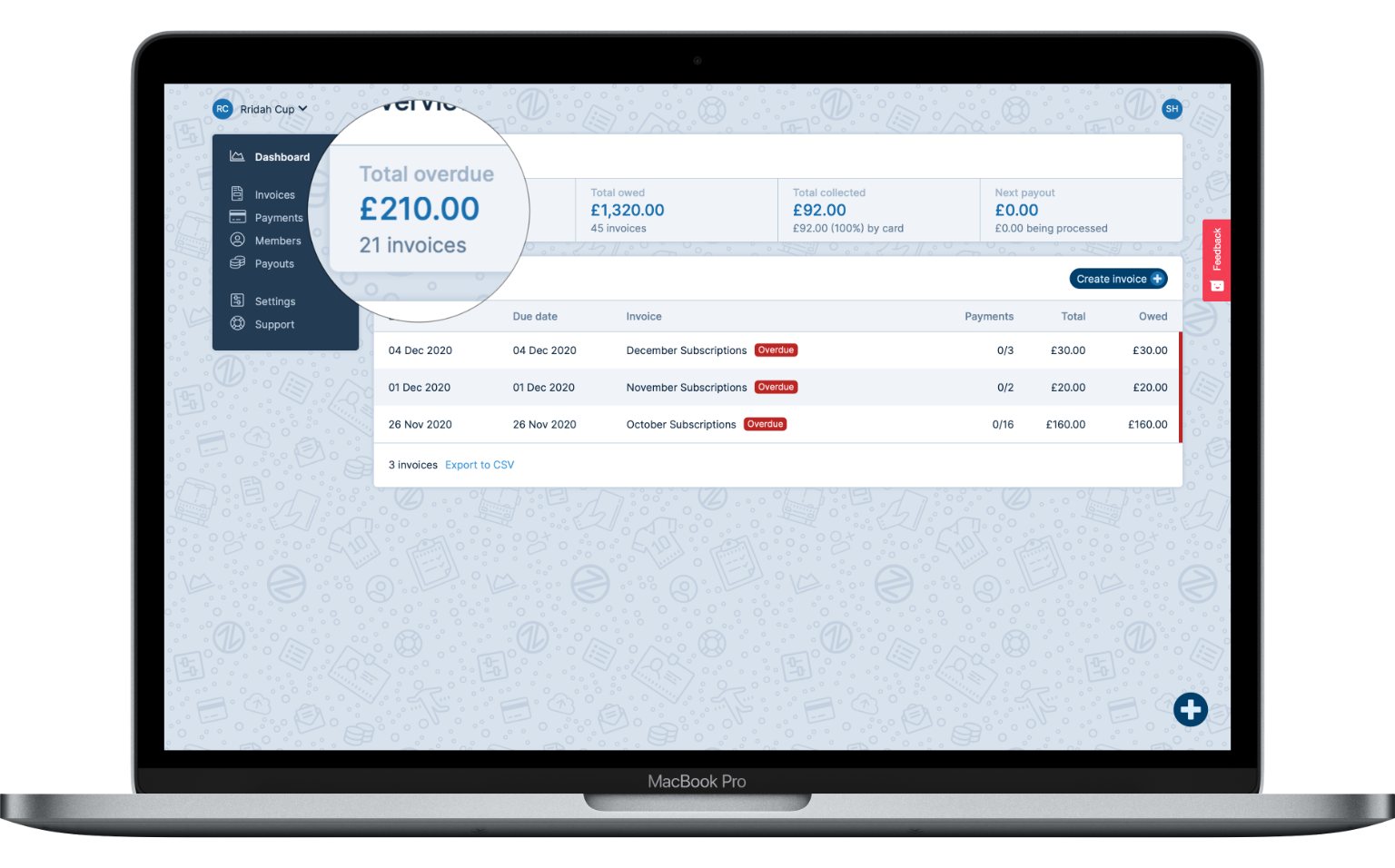 For more details see www.payzip.co.uk
2. Xero
Plans: Starter £12/mo, Standard £26/mo, Premium £33/mo
If your club has more going on than just member payments and subscriptions, you may also need some more formal accounting software. Xero is perfect for this. It's cloud-based so you don't need to worry about backing up your data locally, and you can track non-member expenses, such as committee expenses repayment, or grant awards (particularly if you're applying for a capital grant).
Xero also integrates with lots of third party systems, including those already compatible with IFTTT and Zapier making it easy for the more advanced user to build-out their own custom workflow.
Club management
3. Track It Forward
Plans: Free up to 25 volunteers, 100 volunteers $15/mo ($12/mo billed annually)
Some clubs need (or just want) to track the number of hours their volunteers are contributing to make the club work. This can be useful not only to identify where some roles need additional support and avoid being overworked, but can be essential evidence to apply for any grant funding (see our guide to grant funding).
Track It Forward allows you to track these volunteer hours using a web interface or mobile app (and even a sign in/out kiosk if that's your bag), with admin functionality to accept, edit, or reject hours submitted, as well as a host of reporting tools.
It's free for up to 25 volunteers (see the grassroots plan). 26 to 100 volunteers a month is $15/mo or $12/mo if you pay upfront for the year.
Marketing
Your club is probably already on at least one social media platforms or apps, whether that's Twitter, Facebook, Instagram... or maybe even TikTok or Snapchat!
Let's look at a couple of tools you can use to work with these platforms more effectively, and jointly.
4. Social Sports Manager
Plans: Free, Pro £9.99/mo, Premier £19.99/mo
If a large part of your online activity is keeping your fans and followers updated with upcoming matches and goal/score results, Social Sports Manager could save you a whole bunch of time and make your club look good in the process.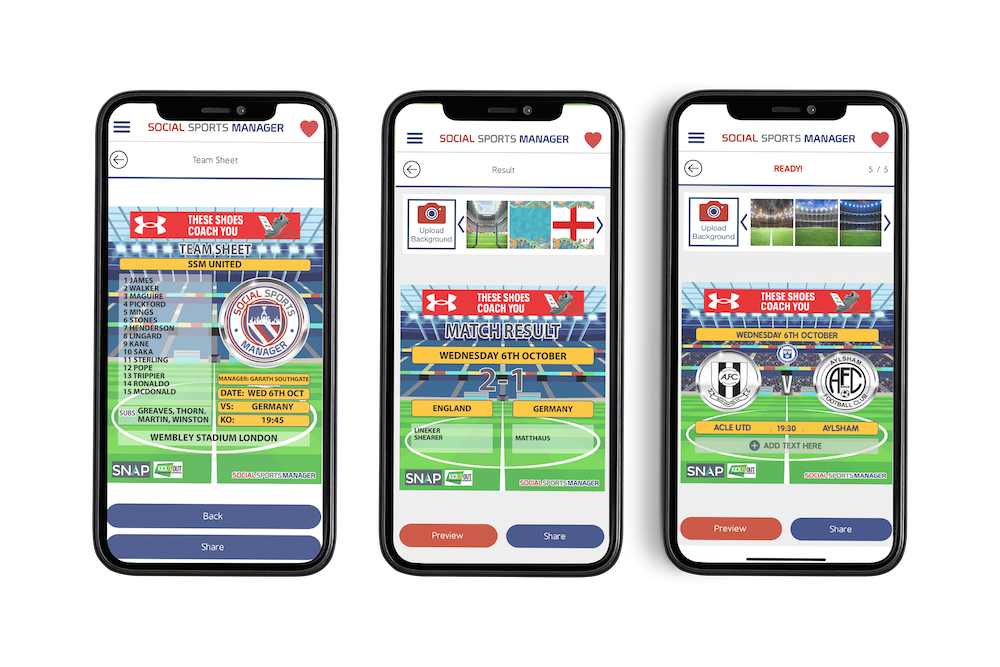 It's a mobile app that lets you easily create and share custom club images to Facebook, Twitter and Instagram, as well as linking your club's social media business profiles. You can quickly share:
Upcoming matches
Match results (or current match score as the game unfolds)
Player of the match
Team sheet
You can also upload your team name and badges for frequent use, so making social media images needn't be a burden any longer.
5. Buffer
Plans: Free basic publishing for up to 3 social media channels, $6/mo ($5/mo upfront annually) per channel for Essentials, which adds engagement and analytics
One of the original social media managers, Buffer has developed over the past 10 years into three very capable products that let you plan and publish your content for Instagram, Facebook, Twitter, Pinterest, and LinkedIn - from the same dashboard.
They also have products which track social media analytics and help you engage with your followers more effectively, but most clubs will want to start with the free Publish product we're describing above. This means you have a steady stream of social media posts, in addition to any ad-hoc ones sent manually.
6. MailChimp
Plans: Free, Essentials $9.99/mo, Standard $14.99/mo, Premium £299/mo
Email can be a great way to get longer-form content to your followers, e.g. a club newsletter with all recent updates and future fixtures. MailChimp's generous free plan might be all your club ever needs, as you can email 2,000 contacts and send 10,000 emails per month. It includes email signup forms which you can use on the club's website too.
As with some other products listed here, MailChimp integrates with IFTTT and Zapier as well, neatly slotting into your club workflow, if you set one up.
---
Want more? Read our guide to promoting your club online and offline.
---
Communication
Individual texts are fine, but slow, and we all know how messy WhatsApp group chats can get. What your club needs is a dedicated comms platform to help co-ordinate matches, training and events.
7. Heja
Plans: Free, and Pro from £7.33/mo
If you're looking for a club match scheduler, player availability checker and team messaging app, Heja ("Hey" in Swedish) could be for you. If you don't need more than one admin user and can share club documents via, say, your club WhatsApp or Facebook Group, then the free version might be all you need.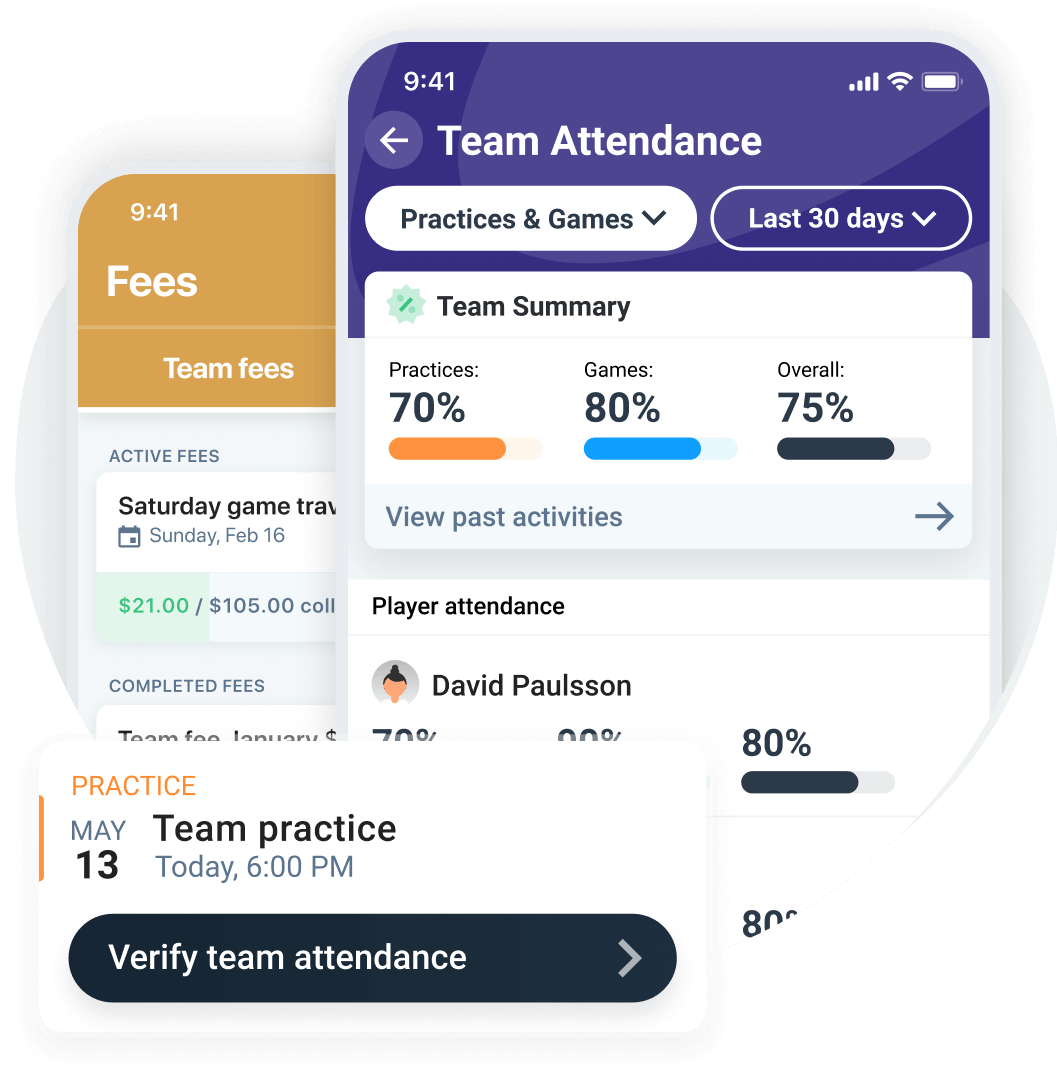 Used by over 1 million people worldwide, Heja seeks to remove the friction from game planning and attendance.
Admin
Sometimes all you need is a word processor or a simple spreadsheet to get the job done.
8. Microsoft 365 home
Plans: Personal (1 user) £59.99/yr (£5.99/mo), Family (up to 6 users) £79.99/yr (£7.99/mo)
The new name for Office 365 / Microsoft Office that we all know and some of us love. For a paid option, this represents extremely good value, as it includes:
Word
Excel
Powerpoint
OneNote
Outlook
OneDrive
Skype
Each user can install it on up to 5 devices, on Windows, macOS, iOS, and Android.
9. Google Workspace
Plans: Free, Individual (1 user) $7.99/mo, Business plans available too
If you don't mind using office tools through the browser, Google's Workspace (formerly G Suite) could be perfect for you.
Activating the free version is a little clunky - you start with having a Gmail account (you may have one already, but consider creating one for your role at the club) and then activate Google Chat in Gmail Settings. Once you've done that, visit drive.google.com in your browser and you should then be able to create new docs, spreadsheets, presentations and data capture forms using the "+ New" button in the top left-hand corner.
Google's tools, whilst not identical to Microsoft's, overlap significantly and they you can open Microsoft files in Workspace too (e.g. bringing a .docx file into Google Docs).
Project management
10. Trello
Plans: (per user) Free, Standard $5/mo, Premium $10/mo, Enterprise $17.50/mo
From time-to-time you'll have projects running inside the club, whether that's preparing for the AGM or applying for funding. Trello is a free project management tool that uses a Kanban card system to layout your tasks.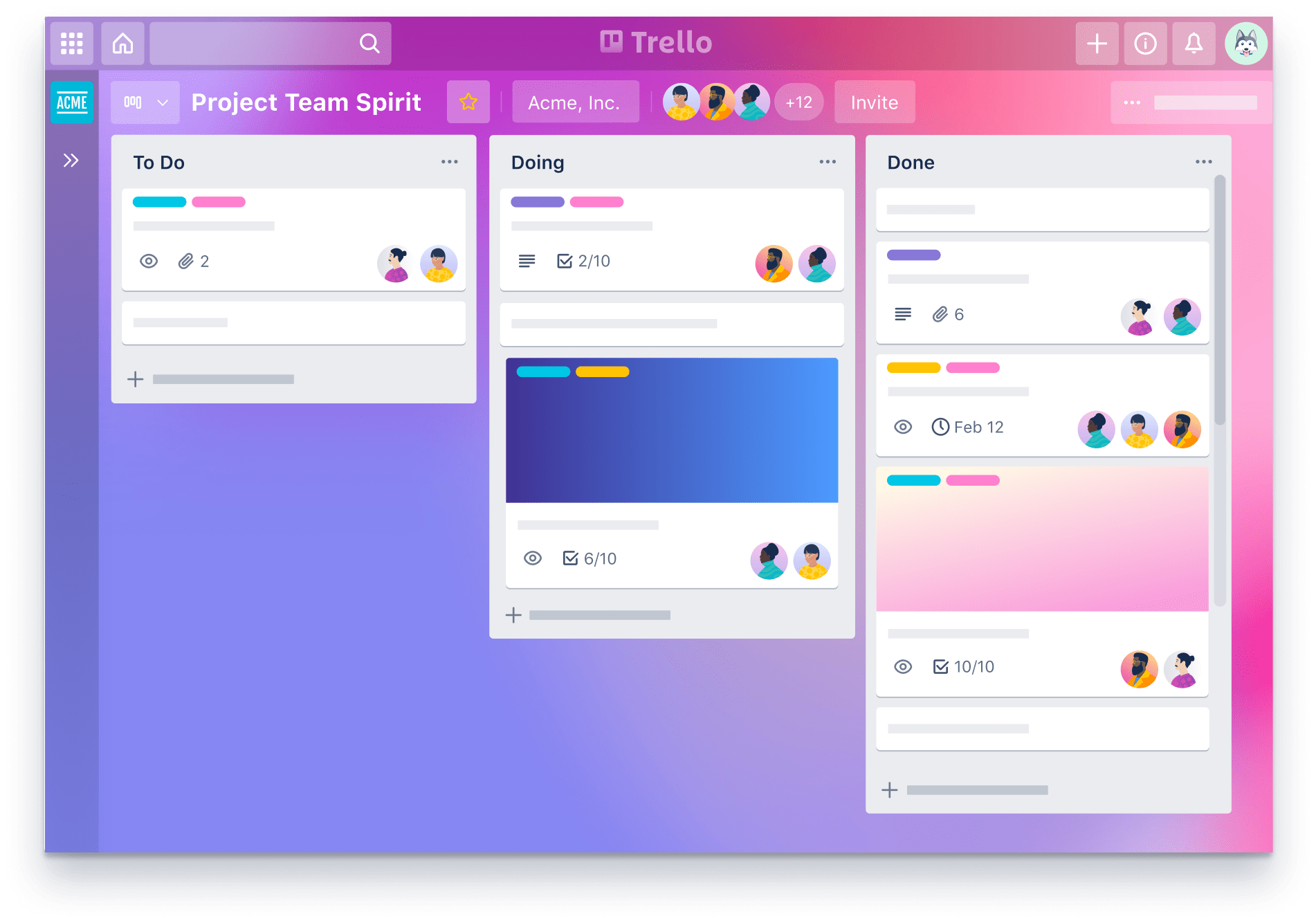 Cards are placed in lists (columns) and you can move cards between lists as you make progress completing them. This can be as simple as "To do", "Doing", and "Done", or a list for each phase that an item can go through to be completed.
You can set card due dates, assign cards to people, and categorise/filter cards with labels too. It's easy to use while being powerful and flexible. There are paid upgrades available, but your club likely won't need these.
11. Notion
Plans: (per user) Personal $0, Personal Pro $4/mo, Team $8/mo, Enterprise POA
If Trello is a card-based planner where you can add notes, Notion is a note-based app where you can add to a roadmap. Designed to be supremely flexible, even Notion describe their tool as more than a doc or a table, and more dynamic than a static wiki. It's your knowledge viewed in the format that best suits you at the time.
You can use Notion, amongst other things, for:
Internal company website (handbook, operating procedures, values etc.)
Project roadmap
Wiki knowledgebase for your club
Meeting notes
Simple, public web pages
What's your favourite?
Got a favourite app or tool that your team can't do without? Tell us about it and we can feature it here.